Step into paradise at one of the most sought-after resort real estate offerings on the island of Maui. Nestled along the shores of the serene Kaanapali North Beach, the atmosphere and amenities at Honua Kai offer one of Maui's few opportunities to own real estate amidst the setting of a truly world-class resort. 
As Honua Kai's largest independent vacation rental manager and a market leader in Honua Kai real estate transactions, Maui Resort Realty offers a level of expertise in the Honua Kai real estate market that is second to none. So if you are curious about ownership at Honua Kai, whether for enjoyment, investment, or both, it would be our privilege to share our wealth of Honua Kai knowledge with you.
Current Honua Kai Condos for Sale
On a spacious and well-manicured 38 acres of beachfront, the Honua Kai Resort is home to four separate swimming pools with poolside food and drink service, waterfalls, five hot tubs, a spa, a beachfront restaurant, a modern fitness center, grills, and two gourmet markets. The resort also boasts an impressive waterslide and a sandy beach children's play area with fountains.
For on-site dining, Honua Kai offers beachfront views with tantalizing island cuisine at the renowned Duke's Beach House Restaurant. Or if you just need a quick snack or refreshment the resort also includes The Aina Gourmet Market, offering fresh groceries, a coffee bar, and a deli, and the Whaler's General Store, offering snacks, souvenirs, and sundries. Take your relaxation to another level with the award-winning on-site Ho'ola spa, boasting a variety of rejuvenating services inspired by the local culture.
While Honua Kai proudly offers everything needed for a luxurious Hawaiian vacation, it also makes exploring a breeze. With its close proximity to Lahaina and Kapalua, offering an incredible variety of shops, restaurants, beaches, and destinations, including the famous Front Street and Whaler's Village, guests will enjoy effortless access to an array of activities. Snorkel, attend a luau, take a sunset cruise, go ziplining, and much more, all within minutes of the resort.
Highlights
36 Lush Beachfront Acres located on Kaanapali North Beach

Studios, one, two, and three bedrooms floorplans 

Duke's Beach House signature restaurant

Onsite convenience stores, including Whaler's General Store and Aina Gourmet Market

4 pool areas with waterfalls and poolside food and drink service 

4 hot tubs

An impressive waterslide and sandy beach children's play area

Hotel-level services, like valet parking, bell service, and concierge services

3 outdoor BBQ grills and picnic areas

24 hr fitness center

Ho'ola Spa

Minutes from Whalers Village, Front Street, and Kapalua
Honua Kai is comprised of two adjacent towers – Hokulani to the south and Konea to the north. The interiors, furnishings, and floor plans are nearly identical between the two towers, although each lobby and courtyard area has a slightly different feel. Each offers a wide range of unit types and sizes to accommodate every need, including studios, one, one+den, two, and three-bedroom options. Every unit on the property offers an in-suite washer and dryer, private lanai, queen-size convertible sofa sleeper in the living area, and a fully equipped kitchen with a fridge, dishwasher, microwave, oven, and stovetop.
There are four columns of studios between the Hokulani and Konea towers all of which are located within the interior courtyard and the majority offer ocean views. The amount of ocean in the view plane increases as you go above the 4th floor. All of the studios feature a king-size bed, a queen pullout, and a balcony of around 100 square feet – large enough for a dining table and chairs and an additional lounge chair.
The one-bedroom suites at Honua Kai range from 615 square feet to 780 square feet. They all feature a king-size bed in the master bedroom, a queen pullout in the living room, and a balcony of around 150 square feet which has a dining table and chairs and an additional lounge chair. All one-bedrooms at Honua Kai are located on each tower's exterior except for one column of interior one-bedrooms that can be found in stack 13 of the Hokulani Tower. While the developers of Honua Kai did not give the one-bedroom suites the most spectacular ocean views at the resort, many of them do have pleasant partial ocean views in addition to views of the West Maui Mountains – which often light up beautifully around sunset.
Honua Kai Resort also features a limited number of suites that were originally sold as one-bedroom suites with adjoining dens. Many of these dens have been converted into bedrooms so that these suites now have two bedrooms and one bathroom. A few of these are in the Hokulani Tower, but most are located in the Konea Tower. These units are around 950 sq. ft. and their balconies are typically around 180 sq. ft. For value-minded families who prefer two separate bedrooms and additional space, these suites can be an excellent choice.
The true two-bedroom suites at The Honua Kai Resort range from 1080 to 1620 sq. ft. They all feature a king-size bed in each bedroom and a queen pullout couch in the living room. In addition, most of the king beds in the guest bedroom can be split into two twin beds. The bathrooms typically have dual granite vanities, glass walk-in showers, and separate soaking tubs. The majority of the two-bedroom balconies are quite generous at around 200 sq. ft., but they range in size from 100 sq. ft. up to 505 sq. ft.
The three-bedroom residences at Honua Kai are among a limited number of three-bedroom resort residences on all of Kaanapali Beach and they are truly some of the finest accommodations on the entire island of Maui. The fit and finish of the three bedrooms at Honua Kai is a cut above the rest. Each unit features Viking appliances, an in-counter wine chiller, luxurious tile flooring, and opulently outfitted kitchens and bathrooms.
There are two primary categories of three-bedroom residences at Honua Kai—oceanview and oceanfront Ali'i. The ocean-view three-bedroom residences occupy two columns in both the Hokulani and Konea towers. These deluxe ocean-view units are further back from the ocean than the oceanfront units, but they all offer direct facing ocean views. In general, the caliber of the view increases as you go up in floors. These three bedrooms are around 1600 sq. ft., and they all have three bedrooms and three full bathrooms. One of the unique features of this category is that all three bedrooms directly face the ocean.
The three bedroom oceanfront residences sit at the very tip of each wing at Honua Kai (two wings in each tower), and they are the closest units at Honua Kai to the ocean. These three bedrooms are referred to as the "Ali'i Residences" which comes from the Hawaiian word for royalty. The expansive residences have approximately 2200 sq. ft. of interior living space with an additional 550+ sq. ft. of outdoor balcony space. They all feature three full bathrooms with glass walk-in showers and separate soaking tubs. Along with the glass shower, the master bath features an elegant fee standing vessel style tub – unique to the oceanfront three bedroom Ali'i residences at Honua Kai. One final point of distinction for the three bedroom Ali'i residences at Honua Kai is that they all feature Viking BBQ grills and outdoor kitchens built onto the balcony.
Situated on the southernmost end of the Honua Kai property, the Hokulani tower was the first of two to be built and offered for sale. With its lush courtyard comprised of the largest pool on the property and its close proximity to Dukes, the Hokulani tower tends to be the livelier, more family oriented of the two towers. Hokulani is also home to the ever-popular Aina Market, featuring high-end products such as pastries, coffees, beverages, and more.
Freshly painted in 2023, the modern off-white building offers approximately 27 unique floor plans ranging from studio units to three bedrooms. Below is a sampling of some of the most popular units found in the tower.
The newer and often quieter of the two Honua Kai towers, Konea is welcoming and relaxed, with a large picturesque fire pit at its center. Its courtyard is home to both a lazy river-style pool and slide, as well as an activities hut open daily. Situated just off the lobby, on Konea's main level, are the Hoola Spa, the fitness center, and the front desk. An underground parking garage offers three-bedroom villa owners an exclusive parking area and all owners additional storage space for large water activity toys like surfboards, paddle boards, and kayaks for a monthly fee. The U shape structure offers nearly 40 different floor plans ranging from studio units to three bedrooms and is scheduled to receive upgraded paint matching that of the Hokulani tower in 2023.
Below is a sampling of some of the most popular floor plans found in the Konea tower.
Below are relevant statistical charts regarding key sales data from Honua Kai over the last three years. Contact one of our agents to discuss the information in greater detail or to obtain a value opinion on a specific unit.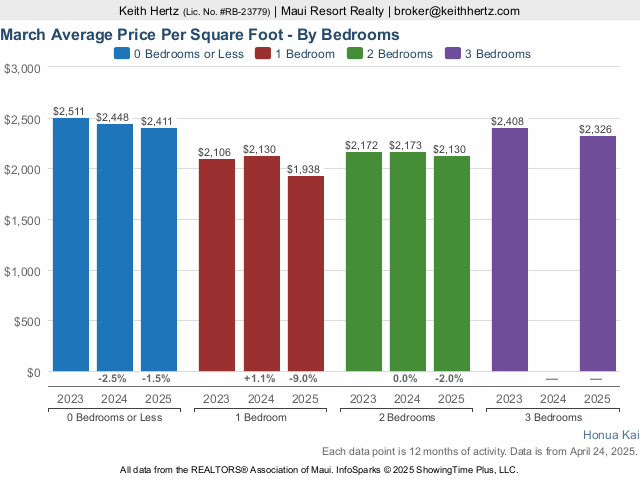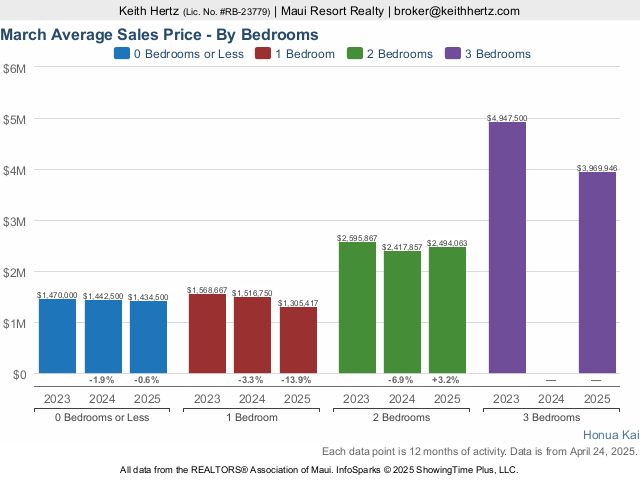 Frequently Asked Questions
How is electricity paid?
Each unit is sub-metered, meaning it will be billed separately by the Association of Apartment Owners (AOAO) based on its individual users. Energy efficiency was considered throughout every stage of Honua Kai's creation. As a result, these units consume less energy than comparable condos from other properties in the area.
What is included in the maintenance fees?
Monthly maintenance fees cover the cost of water, sewer, basic cable television, garbage removal, landscaping, pest control, garage maintenance, elevator maintenance, capital reserves, insurance, pool maintenance, utilities for common areas, property taxes for common areas, and association management. These fees have hovered around $1.80 per square foot over the last few years, but please reach out to us directly to receive the most up-to-date information.
Individual owners are responsible for their unit's monthly electricity, phone, internet, and insurance for unit contents and liability, as well as the annual property taxes.
Is additional storage available?
Each residence includes its own owner's closet located within the unit. For an additional fee, owners can utilize the storage of large items like kayaks, surfboards, paddle boards, or other similar items on the P level. Owners of 3-bedroom villas also have access to a locker in a fully-secured room.